Tucson MSBL
Registration Instructions for Managers
THESE ARE THE INSTRUCTIONS AND IMPORTANT NOTES REGARDING PLAYER REGISTRATION AND MANAGEMENT:
*NOTE: required fields are not delineated or highlighted  – therefore many managers leave off critical data. This critical data is not obvious when filling out player information.
CRITICAL DATA
Address Number
Address Street
City
State
Zip
Cell Number
Cell Provider
Date of Birth must be in this format:01/05/1988 <– CORRECT
1/5/1988 <– INCORRECT
2. It is not obvious that you need to
SAVE
the player information before hitting
WAIVER NOTIFY.
So if you change the guy's email address or something, you need to save it
before
hitting the
WAIVER NOTIFY
button. You save by clicking this button:

3. the STREET NUMBER field can only be a number. Many managers put the whole address here, which throws errors.
4. If you manage more than one team, you need to RESET LOGIN before being able to login to a different team. This is not obvious either.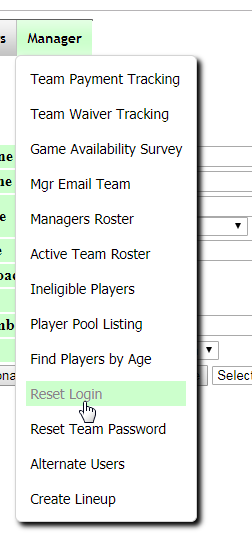 5. I have found through trial and error that a birthdate is required. Even if the birthdate you have is wrong, just put something in there. The player is sent to a form which requires him to fix anything before signing. I have been using 01/01/1990  – in that exact format in order to finish off player data that was missing the DOB.
——————————————————————-
REGISTRATION INSTRUCTIONS

Managers will login here to register players:
http://tvmsbl.info/tucsonmsbl/login.cfm
Your username and password are below:
################################
MANAGERS: CHECK YOUR EMAIL FOR USERNAME AND PASSWORD
################################
Click Add New Player:

The system prompts you to do a search.
Click "Search for Player"
If nothing is found, the system asks if you want to add this new guys, in this case I entered "John Doe"
The system pre-fills the name, you need to add the correct email address and uniform number

Then click Update Player Record / Changes

Then click "Waiver Notify"

The system will then send this new player an email with directions on filling out the MSBL waiver and will notify the manager that a player has been added.
Do this for each player on your roster. In the next set of instructions, I will show the managers and players how to pay.
Call or email me any questions
Miguel Peralta
(520) 975 0159